STOCKHOLM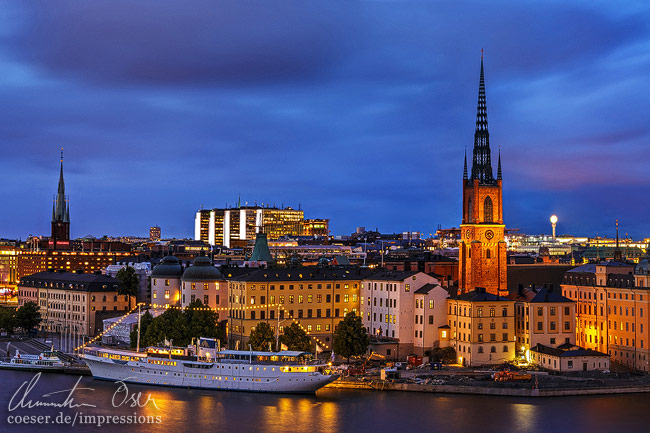 View of the Riddarholmskyrkan church at Gamla Stan after sunset.

Blick auf die Kirche Riddarholmskyrkan in Gamla Stan kurz nach Sonnenuntergang.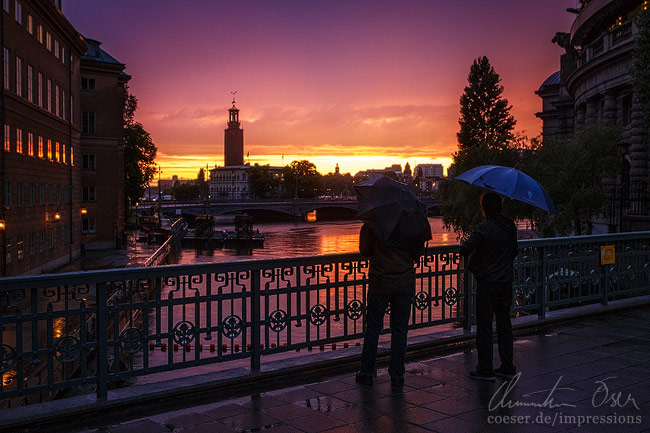 People take a look at the Stadshus (City Hall) and enjoy a spectacular sunset.

Blick auf das Stadshus (Rathaus) und einen spektakulären Sonnenuntergang.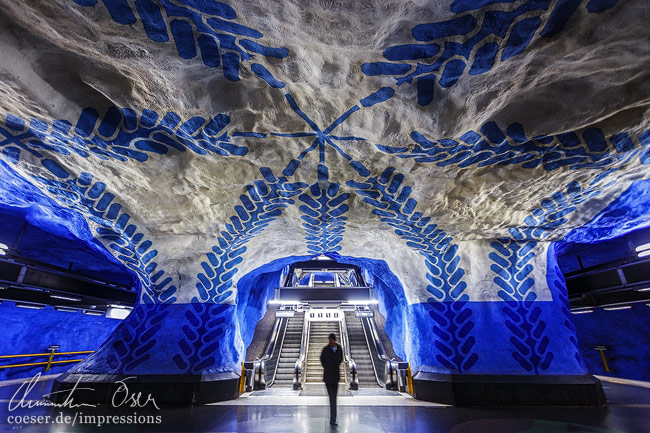 Architecture of the T-Centralen metro station, part of the "world's largest art museum".

Architektur der U-Bahn-Station T-Centralen, Teil der "größten Kunstmeile der Welt".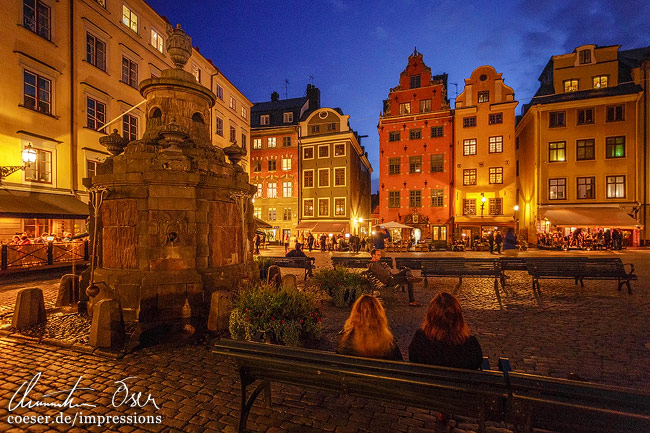 People enjoy a mild summer evening at the colorful illuminated Stortorget square.

Menschen genießen auf dem bunt beleuchteten Stortorget-Platz einen Sommerabend.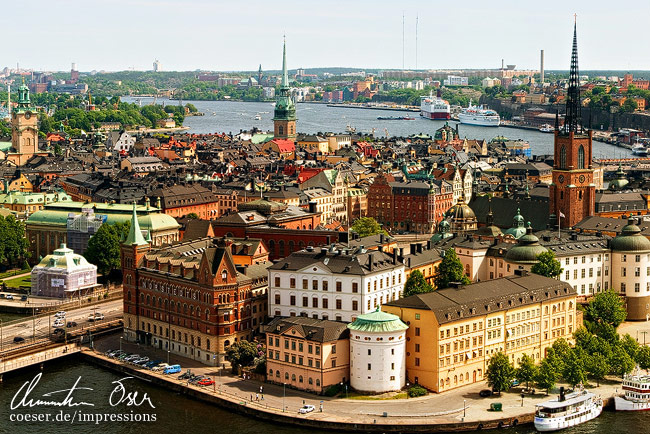 View of the Riddarholmen island and the Gamla Stan historic city center.

Blick auf die Insel Riddarholmen und die Altstadt Gamla Stan.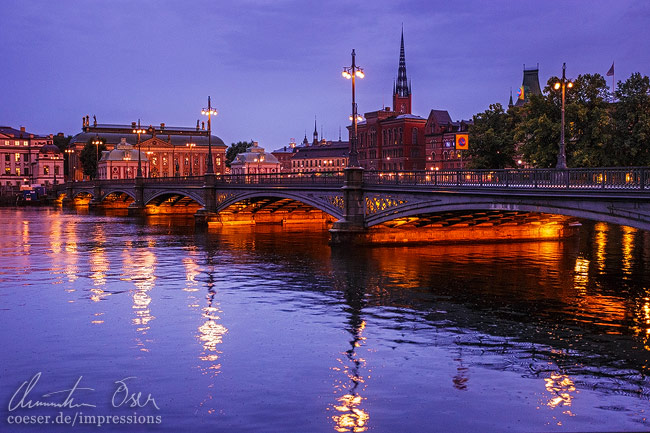 The Vasabron bridge, the Riddarholmen island and the Riddarholmskyrkan church.

Die Vasabron-Brücke, die Insel Riddarholmen und die Kirche Riddarholmskyrkan.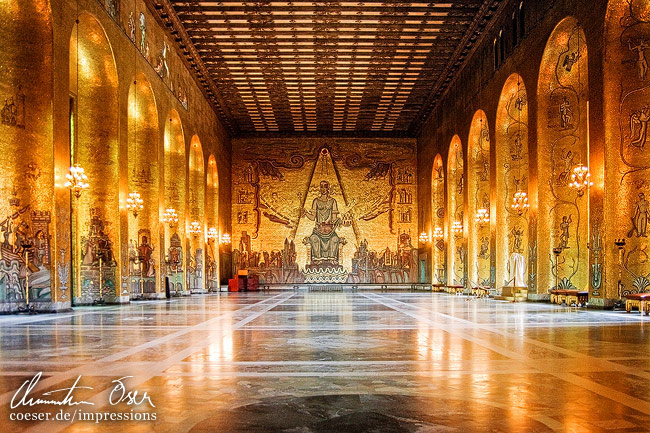 The "Queen of Lake Mälaren" mosaic in the Golden Hall of the City Hall (Stadshus).

Mosaik "Königin des Mälarsees" im goldenen Saal des Rathauses (Stadshus).

View from Slussen on the illuminated Tyska kyrkan (German church).

Blick von Slussen auf die beleuchtete Tyska kyrkan ("Deutsche Kirche").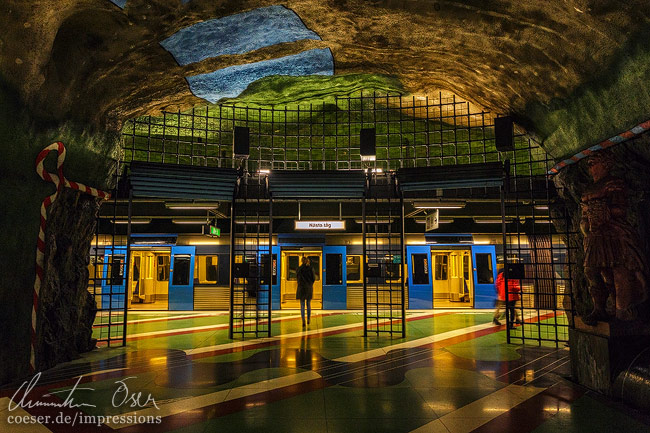 People board a metro train at the Kungsträdgården station.

Menschen steigen in der Station Kungsträdgården in eine U-Bahn ein.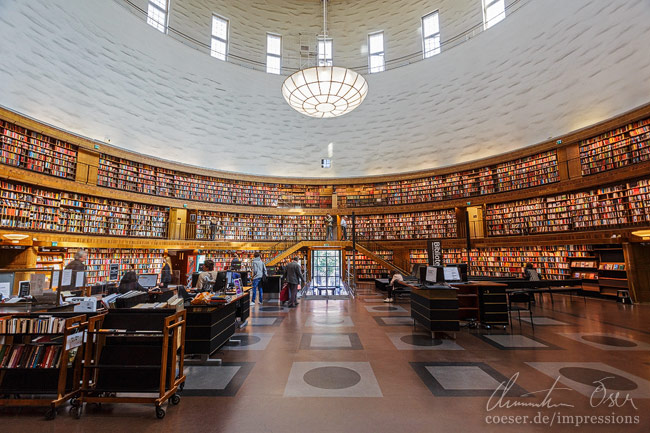 Interior view of the rotunda in the Stockholm Public Library.

Innenansicht der zentralen Rotunde in der Stadtbibliothek Stockholm.
nach oben / back to top